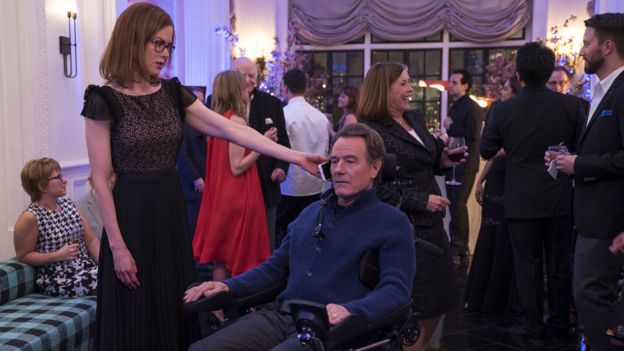 Bryan Cranston
actually had to defend playing a disabled character in his latest film "
The Upside
," saying his casting as a man with quadriplegia was "
a business decision.
"
"The Upside," an American remake of the French film "
Les Intouchables,
" has the actor playing a wheelchair-using billionaire who hires a former criminal, played by comedian Kevin Hart, to be his caretaker.
"As actors we're asked to play other people," says the Breaking Bad star.
There has been a major push for Hollywood to expand casting in movie roles and perhaps even hire someone who is quadriplegic to play the role of a quadriplegic.
Cranston does admit the subject is "
worthy for debate
" and there should be "
more opportunities
" for disabled actors, however, he does also say that he should still be entitled to
play characters whose attributes may differ from his own:
"If I, as a straight, older person, and I'm wealthy, I'm very fortunate, does that mean I can't play a person who is not wealthy, does that mean I can't play a homosexual?" adding,
"I don't know, where does the restriction apply, where is the line for that?" he told the Associated Press.
This is a similar situation to that of the backlash which has
occurred
the last few years with cisgender actors playing transgender roles.
Indie film actor Adam Pearson ("Under the Skin") has led the way in criticizing Cranston's casting. "Yet even more 'cripping up' in Hollywood, this time by, regrettably, one of my favourite actors," the actor tweeted. "Referring to it as a 'business decision' was a poor choice of words."
Pearson tried to make his point by showing an example of Hollywood's disproportionate number of awards won by abled actors in disabled roles, in comparison to awards won by disabled actors.
"In the 90 year history of the Oscars, 16% have been awarded for movies / performances based upon a portrayal off disability and the disabled experience, with 20+ abled bodied actors winning awards," wrote Pearson. "In the same period however only 2 disabled actors have been awarded the same accolade, most recently was [Marlee Matlin] (back in 1987)." (Matlin won Best Actress for "Children of a Lesser God.")