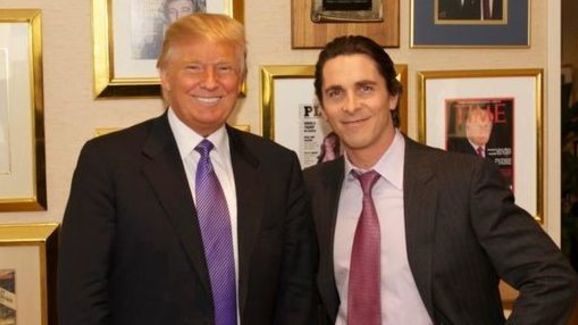 In 2011
Donald Trump
visited the set of
Christopher Nolan
's Batman trilogy capper "
The Dark Knight Rises,
" which was filming at Trump Tower. Christian Bale remembers that day very well, especially since Trump invited him up to his office and spoke to the Welsh actor as if he actually was Bruce Wayne.
"I met him, one time. We were filming on 'Batman' in Trump Tower and he said, 'Come on up to the office,'"
Bale told Variety
, "I think he thought I was Bruce Wayne because I was dressed as Bruce Wayne. So he talked to me like I was Bruce Wayne and I just went along with it, really. It was quite entertaining. I had no idea at the time that he would think about running for president."
Earlier in the year Bale had mentioned more details about the meeting
on the
Happy Sad Confused
podcast:
"There's quite a funny photograph that's online. It was whilst we were filming, I believe it was The Dark Knight Rises, we used Trump Tower and we changed the lettering on the outside, it said 'Wayne Tower, Mr. Trump arrived and, I'll never forget the way he said it. He said to me, 'You probably want a photograph with me so let's get that done.' And I turned and there was a photographer ready and I was decked out in full Bruce Wayne, you know, slicked back hair, red tie, a little bit of a Don [Trump] Jr. look, and we took the picture."
Of course, Trump may have known it was Christian Bale, and not Bruce Wayne, because he tweeted about the meeting afterwards specifically mentioning that he met Christian Bale. However, it seems Bale is that convinced Trump thought he was Gotham's richest bachelor.