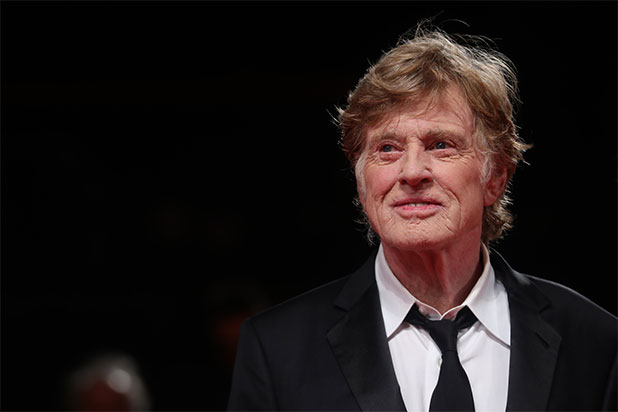 Robert Redford, one of the legends of Hollywood acting has decided that old age has finally caught up to his art.
In an interview with Entertainment Weekly, the 81 year-old actor stated that after this fall's upcoming "The Old Man and the Gun" his acting shoes are being retired.
"Never say never, but I pretty well concluded that this would be it for me in terms of acting, and [I'll] move towards retirement after this 'cause I've been doing it since I was 21. I thought, Well, that's enough. And why not go out with something that's very upbeat and positive?" Redford said, referring to "Old Man and the Gun."
"To me, that was a wonderful character to play at this point in my life," continued the actor. "The thing that really got me about him — which I hope the film shows — is he robbed 17 banks and he got caught 17 times and went to prison 17 times. But he also escaped 17 times. So it made me wonder: I wonder if he was not averse to getting caught so he that could enjoy the real thrill of his life, which is to escape?"
Last year Redford had mentioned to the
Walker Art Center
that he'd be focusing more on directing instead of acting in his twilight years.
"I'm getting tired of acting. I'm an impatient person, so it's hard for me to sit around and do take after take after take. At this point in my life, age 80, it'd give me more satisfaction because I'm not dependent on anybody. It's just me, just the way it used to be, and so going back to sketching—that's sort of where my head is right now."
"So, I'm thinking of moving in that direction and not acting so much. I've got two acting projects in the works: Our Souls at Night, with Jane Fonda, a love story for older people who get a second chance in life, and Old Man with a Gun, a lighter piece with Casey Affleck and Sissy Spacek. Once they're done then I'm going to say, "Okay, that's goodbye to all that," and then just focus on directing."
I'm not the biggest fan of Redford's directing, safe for 1994's indisputably great "Quiz Show," but it's really his acting that has made him the legend that he is today: "Butch Cassidy and the Sundance Kid," "The Sting," "Three Days of Condor," "All The President's Men," "The Candidate," "The Natural" and 2013's "All Is Lost."
However, what he for independent film with The Sundance Institute might be his greatest and most lasting legacy.
"The Old Man and the Gun" is in theaters on September 28th.