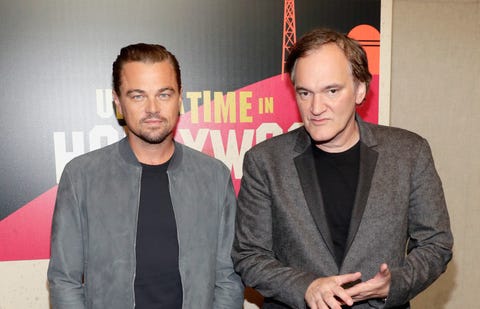 At Cinecon, Quentin Tarantino and Leonardo DiCaprio decided to just walk on stage to talk about their upcoming film, "Once Upon a Time in Hollywood."
Tarantino, in his usual outlandish self, told the crowd that 'Once Upon' is "probably the closest to 'Pulp Fiction' that I have done," according to

THR

. If that's not enough to excite you I don't know what will.
Tarantino went to say that "Sony and myself will be coming to the theaters with the most exciting star dynamic since
Paul Newman
and
Robert
Redford
. It's very hush-hush and top secret. But I can tell you that 'Once Upon a Time in Hollywood' takes place in 1969, at the height of the counterculture hippie revolution and the height of new Hollywood. Street by street, block by block, we'll transform Los Angeles into the Hollywood of 1969."
Of course, he's referring to
Brad
Pitt
and DiCaprio. The latter went on to chime in and say "It's hard to speak about a film that we haven't done yet, but I'm incredibly excited…to work with Brad Pitt, and I think he's going to transport us. I'm a huge fan of 'Singin' in the Rain' — movies about Hollywood. As an L.A. native, having read the script, it's one of the most amazing screenplays. We are going to do our best job to make it fantastic."
Sony Pictures motion picture group chairman Tom Rothman, also on stage, added that "It's the best screenplay that I have had the privilege to read."
Of course, the hype machine is very well what this is. However, ever since "Pulp Fiction" Tarantino has cautiously made sure to not replicate the stylistic and narrative aspects of what most consider to be his masterpiece. The fact that QT has decided to embrace and revisit that film and go back to it will make any cinephile excited and gleeful at the prospect.
The films that QT released post-Pulp Fiction all made sure to sidestep whatever was used in that 1994 film: "Jackie Brown" was based on an Elmore Leonard novel and was inspired by blaxploitation films, "Kill Bill" was inspired by Japanese grindhouse cinema, "Inglorious Basterds," was a revisionistic war movie, "Django Unchained" was inspired by Sergio Leone's spaghetti westerns and "The Hateful Eight" felt like a violent version of an Agatha Christie novel.
There's no release date yet for "Once Upon a Time in Hollywood."