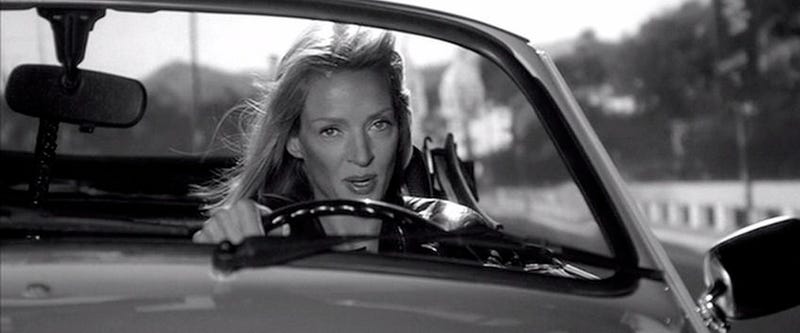 This whole Quentin Tarantino/Uma Thurman fiasco has really rubbed me the wrong way. Mostly because a) QT and Uma both come off on the wrong side of the argument. SHE shouldn't have made this public as they were still friends before press time and b) Well, Quentin shouldn't have forced her into that car, but Uma, protected by the Screen Actors Guild, could have easily refused. What was QT going to do? Shove her into that car?

This morning Tarantino

phoned Deadline's Michael Fleming to discuss the Uma/QT problem on the set of

Kill Bill.
QT admits to fucking up but does state that the stunt was "a little thing," but that's it's one of the biggest regrets of his career:
"Watching [Uma] fight for the wheel…remembering me hammering about how it was safe and she could do it. Emphasizing that it was a straight road, a straight road…the fact that she believed me, and I literally watched this little S curve pop up. And it

spins her like a top

. It was heartbreaking.

Beyond one of the biggest regrets of my career, it is one of the biggest regrets of my life

. For a myriad of reasons.
"It affected me and Uma for the next two to three years. It wasn't like we didn't talk. But a trust was broken. A trust broken over a year of shooting, of us doing really gnarly stuff. Doing really big stunt stuff. I wanted her to do as much as possible and we were trying to take care of her and we pulled it off. She didn't get hurt. And then the last four days, in what we thought would be a simple driving shot, almost kills her.
"The road had more sand, and less dirt, than we actually anticipated. We changed the direction. That was a bad idea, to do that without checking it out. I think ultimately it is the reason she crashed. Although by mounting a camera on the back of this little Karmann Ghia,

it made the car, in the back, way too heavy once it got in trouble

. At a certain point, this Karmann Ghia was

almost hydroplaning on the sand

. You can even see that in the shot. She doesn't drive into the tree. The car just goes into a spin, in the sand. And it slides into the tree."