The trailer for MI:6 has just been released and, I must say, this looks like another old-school, this-is-how-you-do-it kinda movie. Entertainment! Remember movies that just wanted to entertain and did it marvelously well? Unless you think the safe zone Marvel and DC have been on for the better part of a decade is entertainment, but if you don't think in that mindset then you must very much be looking forward to "Mission: Impossible - Fallout."
This is is really that rare franchise that keeps the quality high movie after movie, I stand by my assessment that the last two films ("Ghost Protocol," and "Rogue Nation") were the best of the series, although I do hold the original 1996 Brian De Palma very close to my heart.
Many don't realize just how close Tom Cruise was going to be fired back in 2006. Paramount had just about enough with his couch-jumping antics (remember that?) and

A cover story in the August 2005 issue of Vanity Fair read "Has Tom Cruise Lost His Marbles?"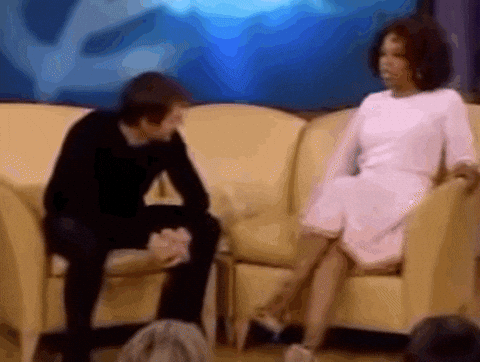 Screen Crush has chimed in today with Remember When Paramount Tried To Fire Tom Cruise From The Mission: Impossible Franchise?
At the time, a Paramount exec was quoted as saying:
"We don't think that someone who effectuates creative suicide and costs the company revenue should be on the lot [...] His recent conduct has not been acceptable to Paramount."
So what happened?
"In the years following his couch jump, Cruise hired a new publicist (one with actual experience) and stayed away from big-budget action projects. His production company, looking for a new home, signed a deal with MGM, giving him partial ownership in the classic Hollywood studio United Artists. His next two starring roles —
Lions For Lambs
and
Valkyrie
— were more dramatic parts in smaller films. Those films were met with mixed results, but it was Cruise's supporting role as the profane studio head Les Grossman in Ben Stiller's
Tropic Thunder
that may have reminded everyone just how good the actor could be."
So Les Grossman saved Tom Cruise's career. I mean how amazing is that? I will say this, when I saw Tropic Thunder back in 2008 I had NO IDEA that it was Tom Cruise playing the slimy film Exec. What an incredibly slapstick performance that was.
Of course, now Paramount must be thanking the heavens for not firing the 55-year-old actor as the Mission: Impossible franchise is their lonre moneymaker, especially with the fifth "Transformers" movie bombing at the box-office. Paramount is looking for "Mission: Impossible - Fallout" to so desperately give them the hit they've been craving for the better part of 3 years now. That trailer does make it seem as if it's going to happen.
[Reddit]