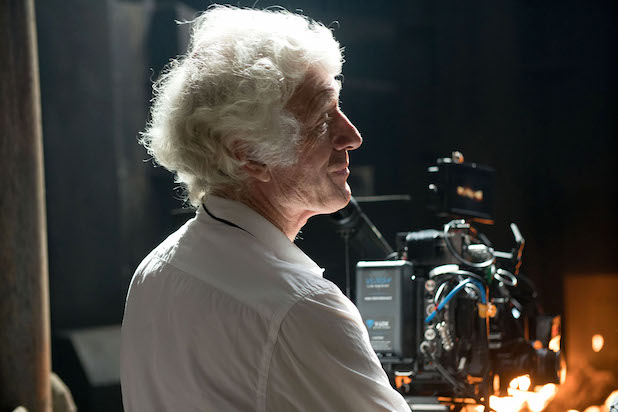 Roger Deakins. A legendary cinematographer who has

never

won an Oscar, despite being nominated 15 times. Absurd. Blasphemous. He recently nabbed that 15th nomination for "Blade Runner 2049," a visceral and intense movie from Quebecois director Denis Villeneuve, their third collaboration together. A lot of the film's brilliance had to do with the cinematography that Deakins brought to the table. The film is almost as much a showcase for Villeneuve as it is for the famed cinematographer. Villeneuve seems to be giving carte blanche to Deakins with every movie, which isn't a bad idea, and the two complement each other to great degrees. Villeneuve told me a few years back  "I always profoundly felt Roger wanted to make the movie. One thing I adore about Roger is his discipline and his rigor. He exudes so much respect from the cast and crew. When I started editing the movie I was just floored by what he had done."
There's a good chance Deakins will finally win for "Blade Runner 2049," as he has just won the American Society of Cinematographers top prize. This is the fourth ASC award Deakins has won in his illustrious career.
However, according to The Wrap don't bet the whole lot on Deakins to win that Oscar just yet:
"...The win does not necessarily mean that Deakins is now an Oscar front runner. In the first 31 years of the ASC Awards, the theatrical winner went on to win the Oscar only 13 times, although three of those wins ("Gravity," "Birdman" and "The Revenant," all to Emmanuel Lubezki) were in the last four years."
In my BR2049 review last year I wrote:
"We all figure this will be the movie that will have Roger Deakins win his first ever Oscar, right? After all, Denis Villeneuve's "Blade Runner 2049" is a transportive visual feast for the eyes which has no less than a dozen, or so, of the best shots of the entire movie year. The legendary cinematographer and 13-time nominee shoots the hell out of this visionary sequel and will surely be a contender come Awards season. "