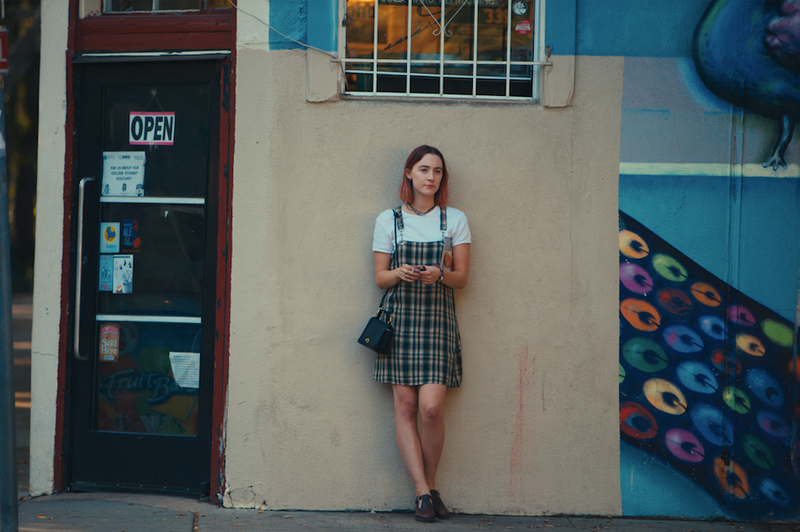 You've most likely already heard about Greta Gerwig's semi-autobiographical "Lady Bird". Funny, tender and heartbreaking, its premiere at Telluride made it the toast of the fest. Last night the film had its TIFF premiere at the Ryerson, where Gerwig's film was thunderously received. It's destined to become a coming-of-age classic and is powered by a performance from Saoirse Ronan that feels all too real and humane.
There isn't a scene in Greta Gerwig's directorial debut "Lady Bird," which lasts for more than two minutes and each vignette is a gem. This episodic and effortlessly realized film blooms before effortlessly, up until maybe its somewhat too neatly assembled finale. Christine McPherson (the amazing Saoirse Ronan) is a high school teenager who demands that everyone refers to her as Lady Bird. She wants to move to the liberal-minded northeast and leave her suburban Sacramento neighborhood behind. Cosmopolitan culture is what she wants and she feels New York is the ideal location. We all know how a similar path ended for Gerwig, who's become a Manhattan cinematic fixture for millennials. Laurie Metcalf plays Lady Bird's affectionate mother, working double shifts as a nurse; please nominate this woman for an Oscar. There is plenty of Gerwig's signature charm and wit in the film, which she has refined to rose-gold perfection in films like Frances Ha and Greenberg.

Gerwig is known for playing neurotic women in Noah Baumbach movies, who also happens to be her husband, she also co-wrote two of them with him (Francis Ha and Mistress America). And yet, in "Lady Bird" she writes, she directs but she doesn't appear on-screen. Christine seems to be an autobiographical account of Gerwig's Sacramento adolescence, where, as a high-school senior, she attended Roman Catholic tutelage. The scenes between mother and daughter, Ronan and Metcalf's chemistry feels all too real, are the cornerstones of immaculate substantial depth in the film. The reason why this peculiarly neurotic teenager wants to be referred to as "Lady Bird" isn't necessarily mentioned, instead, we can only assume it has to do with her trying to distance herself from family, specifically mom, in an age-old angsty, teen-driven campaign to find oneself in the midst of hormonal chaos and confusion. This all accumulates with episodic sequences that feel like the cornerstones of a young adult's life coming to reality: The losing of one's virginity, the ditching of a best friend for the cool crowd, and the inability to cope with parental guidance. Of course, it all comes back to bite Lady Bird, but not without making her learn from her mistakes, for isn't that what being a young adult is all about? Constantly experimenting and pushing the limits that you have in order to know who you are and what you stand for? For Ladybird, the restraints of home and Catholic school are enough to want to make her move far away from where the "scenes of the crimes" took place and into an independent life of her own choosing.
Gerwig's film feels like a memoir about the end of adolescence, each and every scene seems to hint at an important moment that might have happened in her life, that's why despite, you might say, feeling superfluously "loose" in its narrative structure, the amount of heart in "Lady Bird" is plentiful. Its montage-like bursts feel novelistic and like a 21st century "Catcher in the Rye" but with a wiser, less pompous lead character. It all wouldn't have worked without Ronan in the lead whose as perfect a casting choice as I've seen in quite some time. The 23-year-old Irish-American actress, oh so piercingly heartbreaking in "Brooklyn," gives us an other-worldly performance that feels both achingly precise and comic. She is the reason to see this film, delivering a miracle of subtle sensibilities and juggling all the baggage that comes with being a confused 17-year-old girl.